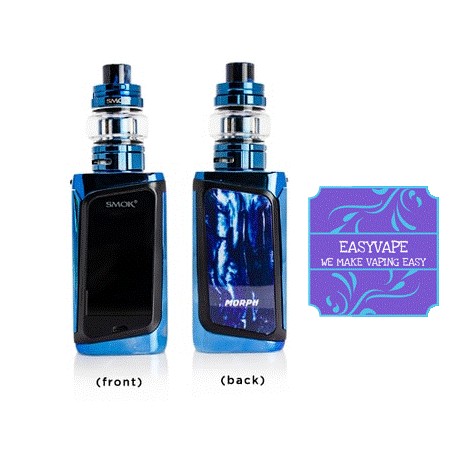  
Smok Morph 219 kit blue
Morph 219 kit, an outstanding example of top-notch craftsmanship and advanced technologies. It is the world's 
first mod designed with input keyboard, which is a revolutionary change for mod operation! It also improved 
the inner chip, shortening firing time to 0.001S! As for screen, its 1.9" touch screen can offer you convenient 
operations. Its max output power is 219W, easily to satisfy the cloud chasers. TF tank is included in this kit, 
with 6ml e-liquid capacity and two powerful coils, it would provide best flavor and cloud.
Innovation keeps changing the vaping experience!
This device requires 2 x 18650 batteries (not included)
The SMOK Morph 219 kit, looks like a familiar friend. But similarities with the Alien stop there, it's a different beast and one of the most versatile kits ever!
Smok Morph 219 kit is a perfect combination of classic style and modern trend. The whole mod has glossy finish and at the 
back it is inlaid with exquisite IML resin. Although it has similar appearance with the legend RHA220W, Morph 219 
has fully improved whatever in material or performance, it can be the new vaping fashion!
BRAND NEW USER INTERFACE
Newly upgraded UI by SMOK team provides more clear and detailed vaping information, such as VW/TC MODE, vaping effect, voltage, battery level, etc.
A dual 18650 powerhouse, the Morph from SMOK is a class act taking its cues from the ever popular alien series, however the Morph favours a softer, more ergonomic design and a smaller, denser feel in the hand.
The Smok Morph is controlled through an impressive 1.9" full colour touchscreen, and showcasing an all-new friendly user interface, that makes it easy to get what you want from it, all within a few taps.
Another cool feature on the SMOK Morph 219 is the ability to set a security passcode, this means you can leave it lying around without fear that anyone (think inquisitive children) will pick it up and use it. 
The Morph Kit is supplied with the SMOK CF Tank, which claims a large 6ml capacity and multiple coil options, just fill with your favourite vape juice and you're good to go. It's supplied with two of the best sub ohm SMOK mesh coil options, which not only guarantee great flavour and clouds as you would expect, but they will last for ages.
The SMOK Morph is a high-end, but approachable and user-friendly kit, sure to be a big hit with vapers old and new!
SMOK Morph 219 Kit Specifications:
SMOK Morph 219 Mod:
84.5 x 45 x 30mm Dimensions

Zinc Alloy Construction

1 - 219W Power Output

Dual 18650 (Sold Separately)

1.9" Colour HD Touch Screen

Protections: Short Circuit, Over Heating and Over-Discharge Protections

Micro USB Port

510 Thread
SMOK TF Tank:
56 x 30mm Dimensions

Stainless Steel and Pyrex Glass Construction

6.0ml Vape Juice Capacity

Adjustable Dual Bottom Airflow System

Top Filling

510 Thread
SMOK Morph 219 Kit Contents:
Morph 219 Mod

TF Tank 6mL

1 x TF2019 BF-Mesh Coil 0.25ohm( pre-installed)

1 x TF2019 BC-Mesh Coil 0.35ohm

1 x Bulb Glass Rubber Protector

1 x Replacement Tank Glass

USB Cable

User Manual

Spare Parts
please note that this device requires 2 x 18650 batteries which are not included and need to be purchased separately.
this is the Blue Smok Morph 219 kit
You might also like