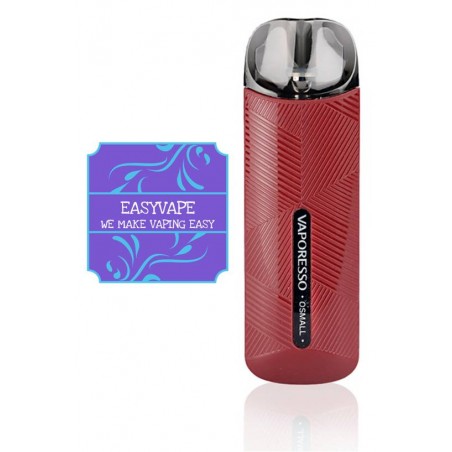  
Vaporesso Osmall Kit - Dark Red
Vaporesso Osmall Kit
Using the optimal POD to give the purest tasting experience through the ultra-smooth vapor, VAPORESSO OSMALL speaks out the true flavour of your e-juice without deviation. Featuring the capabilities of both recharging and refilling within a compact size, the convenience has just been taken into the next level.
The Vaporesso OSMALL is a pocket-sized vape system created to provide smooth, dense and flavourful vapor in a smaller profile. The OSMALL features button less draw-activation, rapid pass-through charging, a modern style with a comfortable grip, and replaceable 2ml pods with built-in coils.
The Vaporesso OSMALL Pod System is small enough to slip into a purse or pocket, and its 350mAh battery provides ample power for short trips on-the-go. The OSMALL's smaller battery and elegant acrylic soft-grip casing allow for an ultra-lightweight device weighing in at only 26g. Powered by the advanced OMNI Board Mini Chip, the OSMALL provides protections against low resistance, burning, overcharging, short-circuiting, temp control and other potential issues. The OMNI chip also features pass-through enabled rapid 2.5A charging, with the capability of fully charging the device in under 30 minutes.
The OSMALL comes packed with one 2ml OSMALL Regular Pod with a built-in 1.2 ohm coil constructed with flax cotton & non-woven fabric wicking to provide smooth and flavourful vapor. Replaceable Osmall Pods are designed with a snap-in magnetic connection and feature an easy side-fill port with a rubber stopper to prevent leaks.
Sleek, modern design and incredible ease of use makes the Vaporesso OSMALL a great choice for new vapers and seasoned pros alike.
Vaporesso OSMALL Includes:
(1) Vaporesso OSMALL System
(1) 1.2 ohm OSMALL Regular Pod 
(1) Micro USB Cable
(1) User Manual
(1) Warranty Card
Vaporesso OSMALL Features:
- Built-in 350mAh rechargeable battery
- OMNI Board Mini Chipset
- 2ml Capacity Refillable Pod
- Snap-in Magnetic Pod Connection
- 11W Maximum Output
- Draw-Activated Firing Mechanism
- Flax Cotton & Non-Woven Fabric Coil Technology
- Direct Voltage Based Output
- USB Pass-Through Charging Port
Vaporesso OSMALL Specifications:
Dimensions: 84.2mm x 26.5mm x 13.4mm
Weight: 26g
Capacity: 2ml
Internal Resistance: 1.2 ohms
Wattage Output: 11W
this is the Dark Red Vaporesso Osmall
used for CBD as well
You might also like